Carers UK
They're here to make sure that no matter how complicated your query or your experience, you don't have to care alone.
Telephone: 020 7378 4999
Website: www.carersuk.org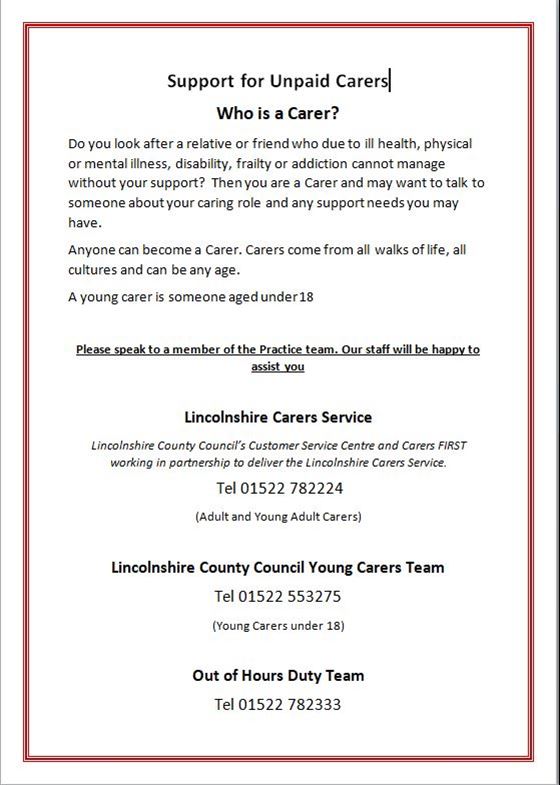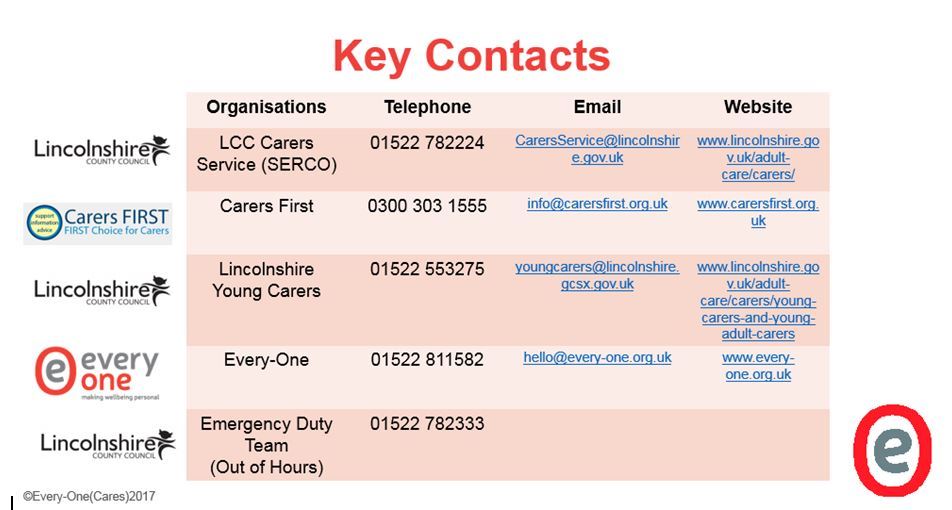 Carers First Lincolnshire Service
Carers FIRST delivers the Lincolnshire Carers Service in partnership with the Lincolnshire County Council's Customer Service Centre. Together they provide a wide range of services to carers across the county.
You can find information on their website about financial support, working carers, practical help and looking after yourself.
Visit their website for full details
Did you know?
If you are an unpaid carer and the person you care for is admitted into hospital (Lincoln, Grantham or Boston), you can visit the PALS office who will take some details from you and issue you with a carer's badge and lanyard. This will allow you to be clearly seen on the ward as a carer and enable you FREE access during the day and not be restricted at visiting times.
Ask at the hospital reception for directions to the PALS office
Lincolnshire Carers Emergency Response Card
Should something happen to you, e.g. YOU were suddenly admitted to hospital, and you are a carer, you can request a FREE Carers Emergency Response Card. This will alert people that you are a carer for someone and arrangements can be made for short-term care for that person until you can make appropriate arrangements.
The contact number to request a Carers Emergency Response card is the Lincolnshire Carer's Service on 01522 782224.
EMERGENCY DUTY TEAM (out of hours) 01522 782333
NHS Links
There is a wealth of information on NHS Choices about carers and caring. Below are some links into the site that we hope you will find useful.
Finance and Law
Help claiming benefits, looking after your bank balance and understanding the legal issues of caring.